Hop on two cars, late afternoon, people in the car, chicken in the ice box, poker cards, Carlsberg.
Here we go, off to Port Dickson!
The last time I went to Port Dickson is because of a bloody assignment shooting.
It was 5 in the morning, we're all not willing to get up from bed but force to.
Not very pleasent journey because we are all under stress, but end up we still do star jump together.
For one moment, I nearly thought it was a great assignment.
But now someone *ahem* keep reminding me how dissatisfy and frustrating he is, I feel ulterlly guilty.
i'msorryokayit'smyfaultishoun'tbesosiaozhaboandirritatingmakeyouallhatemeforrestofthesem. *bow*
Coming back to this same place, with totally different people, mood and relationship, I get excited for going to a trip with these friends who can always make me laugh!
Sepuluh Orang, 2 days 2 nights, sunshine and Sunshine Bay, ants, Poker and Beer...Here we go!
The all time jokers.
Beach!!!! Finally!!!
Com'on, let's pose~
JT: I'm dark shadow, don't you see??
Preparing for BBQ while the day still bright.
Someone is trying to pretend busy...
Let the feast begin!
We makaned very nice roasted lamb, chicken wing, drumstick, jagung, sweet potatoes, and even raw meat!
Picture courtesy of See Yeong
The next day. Not so pretty beach, more like a huge longkang.
See how frust Mr.Dark Shadow is!
Chic No.1.
Chic No.2
The beach,again. This one better, and cleaner.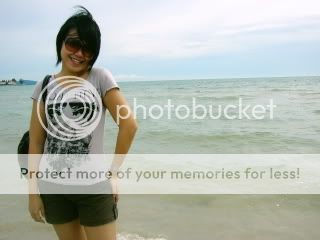 I purposely put this two picture together one so that I look slimmer. *grin*
'what's that??'
'what what?'
JT:who's this panda?
After wx was thrown into water.
Third day, head back to KL, stop by Seremban, must have Siew Bao.
The same Siew Bao stall 2 years back.
Beef Noodles completed the trip.
Too bad See Yeong cannot take beef.
The nicer one didn't open that day, this is another shop, decor and price are nicer.
Port Dickson's sea water is like salt water mix with trash, oil, and more trash.
My face start itchy after 5 minutes in water.
The smater Kok Keong, Mun Yi and Lydia just stay at the beach, watching us playing in the poluted chemical sea water.
Weixiang wanna stay at the beach initially, but we are too eager to have him in water, so we thrown the gigantic panda into the water~yay!
What a holiday!