These days in Liverpool has nothing much, still struggle to save more money, mean time dying to go shopping.
Everyday plan what to cook for dinner in a dilicious and economic way for 6, counting the supplies of groceries, counting my own expenses, living life like a housewife.
Had our formal induction, had the first meal in Hotel, which probably the best since I step my foot here. Wandering in the city, adapting to the life here, looking for direction of Uni, visit some places of Liverpool.
This is my first time to Cathedral, more than any of the movie illustrate, a cathedral is facinating!
I felt greatness and impact when I saw the cathedral. It's awesome!
How can these people build this kind of building, so gorgeous and it's still usable until today!
All the carving and sculpture are brilliant!
Everywhere in Liverpool have a scent of aged, sacred, august...which I'll never find this in Malaysia.
Weather is good yesterday, slightly chill, not sunny, but will rain on friday.
Can't imagine how cold it'll be when raining.
With Fong Way infront og Subway, redeeming our free lunch using coupons.
Lunch valued for 4 pounds, but it's free! Always taste better.
Happeeee can makan for free....[noted these people had been craving for proper food for days]
A clown gave us baloons on our way back.
Blue sky, couldless...People here are peaceful and slumber.
First dinner. My infamous tomato soup. Thanks to TX for recipe :)
First day induction, building in front of the hotel.
Aldelphi Hotel, a very vintage victorian style of decor and building. Cozy and comfy.
Beef stew and bread, best.
Went to explore the town after that.
Found china town FAR FAR away from our accomodation.
Sadly, it's a dead town, nothing in china town except expensive chinese food.
Second dinner ")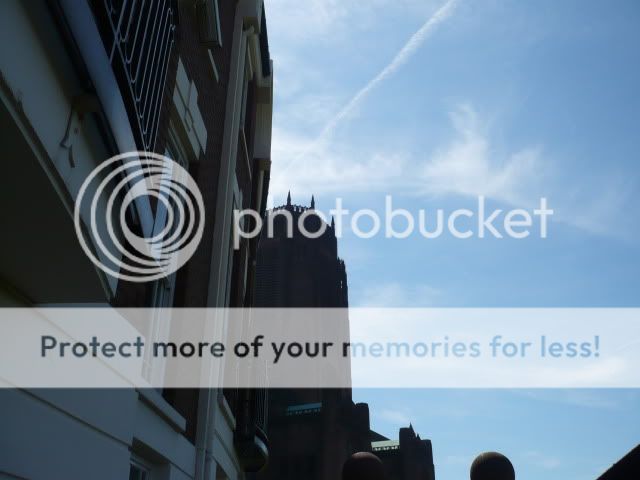 Scenery outside my Uni building, it's just beside the largest Cathedral in Liverpool, awesome.
Dean Walters building.
In the cathedral.
Masterpiece!
The priest is our guide, showing us a place to baptise baby, and the use for the cover above.
More pictures coming up! Chester next time!